Yes, you guessed it... we went to Las Vegas for Memorial Day Weekend. Our friends Juan Carlos and Veronica live there and they invited us so we decided to accept their invitation and fly across country for the first time. We left Friday 23 and got back Tuesday 27. We had a great time... it was so awesome to see our friends, who we hadn't seen in 3 years. Since we got there Friday night, our friends picked us up at the airport and we went for a drive to the Strip... it was very overwhelming to see all the lights and the tons of people walking around. Traffic was terrible, and crazy people everywhere.




Saturday we got up had breakfast and it was out to the strip... we visited the Wynn, The Palazzo, and the The Venetian. We took our time and saw everything, walked around the casinos, the shops (awesome shops by the way) and had lunch at the San Marcos Plaza followed by a Gondola ride. These three casinos were awesome and actually I decided that The Venetian was my favorite of all of them. We also went to a show Saturday night at the MGM called KA by Cirque Du Soleil.. very cool show - highly recommend it if you're visiting Las Vegas.
Sunday we had a late start since we were kind of tired from all the Saturday activities; so we made it for an early lunch at an awesome French restaurant in Paris Casino... we walked around the Casino and also took pictures at the Eiffel Tower and the Arc de Triomphe. We also went to The MGM Mirage, Caesars Palace and Bellagio.., Obviously saw the Fountain Show and it was soooo much better than in T.V. We had some awesome food at different restaurants in these hotels as well...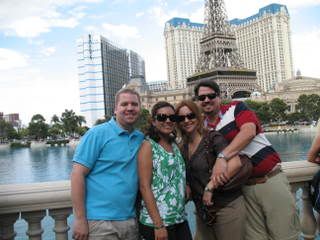 Monday was our last day to enjoy Vegas so we got up early, and went to the New York, M&M Store/Factory, Las Vegas Sign, The Stratosphere, Luxor, Excalibur, and back to the house for some homemade pasta by chef J.C. Kvedaras... He makes an awesome Carbonara for which Tyler got the recipe so I am excited about having a nice meal prepared by my husband. There is some other stuff that I left out, like the fact that I played video poker (only played $1) and won $26, we played a little Craps, Roulette, Texas Hold 'em, and others but no big or crazy amounts spent... our theme was "just for fun"... and that's how we kept it fun, cool, and cheap haha.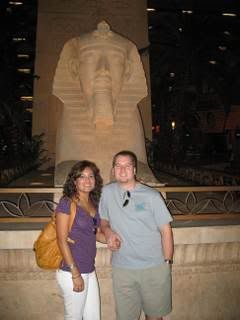 I recorded a video of the Bellagio Fountains... That show is really awesome! I took the video with my picture camera so excuse the lack of good quality. You can check out the rest (all) of our pictures... just click
here
.
Hope everyone had a great Memorial Day Weekend...